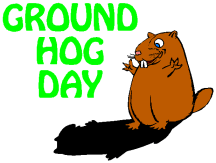 Punxsutawney Phil
did NOT see his shadow
today. What does that mean? According to tradition, supposedly we're in for an early spring. Not that I hold much faith in this silly ritual but it's nice to think that perhaps it's true. Edmonton (and most of Alberta) has had snow since October which is about a month earlier (at least) than normal and it seems people are getting a bit antsy about seeing the snow melt. Hopefully this will put their minds at ease.
It seems that along with Phil, Canada's own
Shubenacadie Sam (from Nova Scotia) has also predicted an early spring for all of us and Wiarton Willie concurs.
CBC has an
interesting article
on Willie that you might enjoy reading.
Basically, get ready to unpack those shorts, t-shirts and sandals folks. Spring is on it's way! And if it's not, blame the rodent.