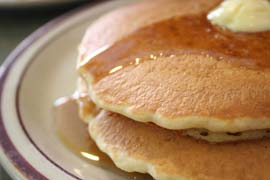 It's pancake day. Yee-haw. Ok, so "pancake day" is not technically the proper name for this particular Tuesday. For Christians, it's called Shrove Tuesday and it's the last day before Lent.
Now, I'm not religious. Nope, I'm not. Far from it. I wouldn't say that I'm not spiritual as that's something completely different and, in my opinion, has nothing to do with "God". I gave up on organized religion a long time ago and stopped believing in a higher power shortly after that. Kind of surprising coming from a girl who used to go to Sunday school every week, attended mass at least once a week, was an altar server (a more PC term than altar boy especially since I'm a girl), and at one point considered becoming a nun. Oh yes. Me. A nun. Ok...ha ha ha, yes, it's funny....tee hee...you can stop laughing any time now... Where was I? Oh yes, not religious. Because I'm not, I don't pay attention except to the major holidays which have turned into commercial events and have no religious meaning for many people. As a result, Lent snuck up on me. It wasn't until I came across an
article on CBC
about various Pancake Tuesday traditions around the world that I realized Lent began tomorrow. While looking up the link for the article I read this morning, I came across the
Wikipedia entry for Shrove Tuesday
and, sadly, I cannot claim to have invented the name "Pancake Tuesday". Alas...
Now, normally the start of Lent doesn't mean anything other than the start of the countdown until I get a parcel from my father and stepmother filled to the brim with waxy "chocolate" bunnies and sugary crap that I end up giving away to coworkers and friends. I knew it was coming as a couple of coworkers have been talking for days about what they're planning on giving up. One is giving up coffee (oh goodness, we're all in trouble!) and the other is contemplating giving up wine which I doubt will happen. This year, despite my lack of religious conviction, I too have decided to give up something. Not to join their little deprivation group, or to support Christianity, but for my own good. I had said before that this year I was going to take better care of myself, plus I'm starting training, so I'll be giving up pop, soda, Coke, or whatever else you call it depending on where you live. No more fizzy, sugary drinks for me. At least for the next 40 days. Wish me luck. I think I'm going to learn pretty quickly what it feels like to be a heavy duty smoker who decides to go cold turkey. Perhaps I will be able to avoid the cravings by
running through the countryside tossing pancakes through the air
.