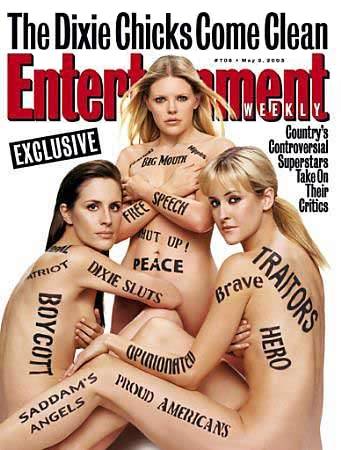 Last night I watched the documentary "
Shut Up and Sing
". It focuses on the events leading up to Natalie Maines' famous words "We're embarrassed that the President of the United States is from Texas" in reference to his actions prior to and during the current war in Iraq, the fallout that resulted from her statement, and their comeback. Film for the documentary was shot over the course of 2003 – 2006.
A bit of background for those of you who don't know what I'm talking about here. The
Dixie Chicks
, and Maines in particular, were against the US's involvement in Iraq before Bush even invaded. Never one to shy away from saying what's on her mind (and this is very apparent during the entire film), Maines made an unrehearsed comment during a concert in London in 2003. A few weeks after it was reported in the UK papers, American news agencies picked up on it and the response in the States (mainly southern states where country music is more popular) was incredible. Radio stations across the country refused, supposedly based on fan response, to play anything by the Dixie Chicks, and people who had been fans for years started burning t-shirts and throwing away their CDs. Outside of their concerts, former fans would show up with American flags, anti Dixie Chicks posters, tshirts and shouting. Many of the people who were shown/interviewed came across as what many people might consider "stupid rednecks" but this could likely be a bias of the filmmaker who was trying to make a pro-Chicks movie. However, I'm pretty sure I saw a mullet or two in there.
Things rapidly got out of hand and all over one simple sentence. Maines and the other Chicks (sisters Martie Maguire and Emily Robison) repeatedly stated that they supported the troops and were pro America, pro Freedom of Speech but that they were frustrated with the failure of the current administration to listen to the American people. Ticket sales plummeted, cd sales were lower than ever and Maines even received a death threat before a concert in Dallas. However, by the time 2006 rolled around, and they had begun recording their current CD, attitudes in the states had begun to thaw towards them, albeit slightly. Maines and the Chicks refused (mainly due to Maines being the most outspoken and assertive of the group) to bend over and suck up to the country radio stations and music networks although they knew they might be shooting themselves in the foot. With the help of songs like "
I'm Not Ready to Make Nice
" (click to listen), their CD debuted at number one.
I'm not a big country fan. I grew up listening to it but went my own way when I became an adult, however I don't hate it and will listen to a good song now and again. Knowing this, I wasn't sure if I'd like the film (although I don't mind the Dixie Chicks). However, it was fairly well done and it was great to see a group of strong women stand up for what they believe in. It was amusing, but not in a good way, to watch people with signs saying the Chicks should be sent to Iraq, and how their records should be banned, etc. These same people are going on about Freedom of Speech, and freedom in general and yet seem to completely miss the point that musicians are entitled to those rights and freedoms as well. George W. didn't seem to upset about what they had to say about him. Why should the rest of the country care? And for the record, Toby Keith is an idiot and proves it quite clearly in his reaction to the Chicks.
Maines, unfortunately, is portrayed as a bit overbearing at times and seems to dominate the actions of the group despite being outnumbered. She is certainly very outspoken and is not afraid to give her opinion on everything from ticket sales, lyrics, or the war and should be commended for not backing down although you can often see the strain and stress it put on her over the course of the documentary. And Maguire and Robison should also be commended. While they didn't always agree with Maines, sometimes quite obviously, they put up a united front and stood behind her and her beliefs. Overall, not the greatest doc I've ever seen but considering the climate in the North America (and other parts of the world) during the past few years, it's very timely as well as being inspirational at times. Also, die hard fans of the Dixie Chicks will enjoy a look into their personal lives and what goes on in the recording of an album and the writing process (which unfortunately seemed to overshadow the real message of the film on occasion). I'd recommend it but perhaps on a cheap night or part of a 2 for one rental night.