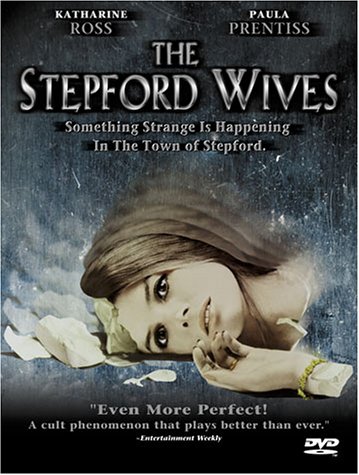 Tonight was the latest installment of Dinner and A Movie. The selection for our vieweing pleasure was 1975's (or according to the DVD jacket 1974's) original version of
The Stepford Wives
. Neither my mother or I had seen it (or so we thought), so we figured why not. Note to all you movie lovers out there, I would NOT recommend the
2004 re-make
. I will admit I haven't seen the whole thing (and am extremely thankful) but the parts that I did see were terrible. And why would you turn it into a comedy? Idiots. Plus the remake has
Nicole Kidman
. Need I say more? Terrible actress...
I decided to go a little "Stepford Wife" myself with dinner this time around and tried to finally have a bit of a theme. It was a veggie meal (mom doesn't mind) but it certainly fit the bill. I made homemade scalloped potatoes, steamed green beans with garlic butter, and sliced tomatoes in balsamic vinagrette. To go completely Stepford, I would have had to bake a whole ham but...ick. For dessert, I made a raspberry/apple crisp with vanilla ice cream. Mom was surprised I wasn't waiting at the door with a perfectly coiffed beehive, martini in hand, to take her coat. The only difference between myself and Martha Stewart? I'm not a bitch...much.
Turns out we had both seen the movie but tried to give it a go regardless. It's a very good movie, definately high on the creepy factor. Unfortunately, both of us were getting annoyed with all the sexist stereotypes and then finally mom had had enough when one of the male characters is staring at the lead actress make coffee and tells her that he loves watching women do domestic chores. (A) Beyond creepy (B) Jackass. It didn't help that we were completely wiped out (more on that below) so we cut the night short without finishing the movie.
Work has been kicking my ass this week and it's only Tuesday. That doesn't bode well. Due to a number of poorly planned approved vacation requests, my counterparts in our sister-department are going insane so I'm replacing one of the ones on vacation. Plus I'm doing my job. It's been a bit of a nightmare so far. Only three more days...only three more days.... I'm headed into work early tomorrow morning and will likely work through lunch (and take no breaks, again) in order to not fall too far behind.
As such, I'm sleeptyping this and my lower back is one giant knot. And while I'm one of those "early to bed, early to rise" folks, I refuse to go to bed before 8PM. Guaranteed though, I'm counting down the minutes until that moment comes. So, if I don't blog, comment, or email as much as usual, don't worry. I haven't killed anyone...yet. I'm just much much busier than normal.