I try to be a nice person, really I do. But then mornings like today happen and it just makes me want to do away with just about everyone (except Tom Jones, and, of course, my bloggers). It's only 7:55 am and here's how my day's been ruined...
I left early as I had to go to the bank and deposit a cheque from the Bro for his share of the TJ tix (note: my sister in law wrote something about hairy Welshmen in the note section on the bottom...I'm sure whoever processes it will have a chuckle). The bank I use is almost right beside a Starbucks (ugghh). Since I had to buy a gift for work and most of my fellow cubicle dwellers enjoy their java, I decided to pop in and pick up a gift card.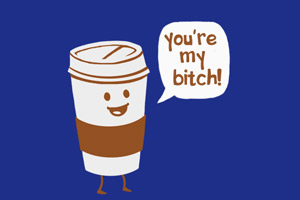 As I'm waiting for the light at the corner to change, a man approaches and asks for change for a coffee. I didn't have any, and I prefer not to give money, so I offered to buy him a coffee as I was heading to Starbucks anyways. Great he says and follows me into the store. As we're standing in line, I let him know to just tell the clerk what it is he wants. That's when he hits me up for a cheese roll as well. Since it was only just over a dollar and I figured a little bit of something relatively nutritious (as opposed to a donut) is a good idea, so I said sure. When we get to the counter he asks for a Venti bold and the roll. I paid and we parted ways.
Walking out the door, it suddenly dawned on me that he didn't ask for a "coffee" but he specifically asked for a "VENTI" bold. He was aware of the sizes of the cups and the specific Starbucks lingo. Hmmmm. Most homeless people or those down on their luck don't usually get their caffeine fixes at fancy coffee shops. As I walked past the window towards my bus stop, I glanced in and had a good look at him. Strangely enough, he didn't look like he was in that much need of my charity. Relatively clean shaven, decent clothes. Great.
I'm more than willing to help out those who are less fortunate than I am. And yes, the $5 I spent on the coffee and a roll for this man will not really be missed. However, it's the fact that he didn't need my help as much as many others walking Edmonton's streets do and because of jackass's such as this one just add to my wariness in helping others. And that's just not right.