Not a whole lot to say right now as there's not much happening - keeping busy with knitting mom's present. Looking at it this morning, it should be done in about a week, well before Christmas. Whew! That is providing I don't screw up like I did yesterday and almost ruin all my hardwork. I have to learn to pay more attention... Other than that, I'm keeping busy planning what to serve for Christmas Eve lunch and figure out if I can afford to buy something small for my brother and sister in law. I hadn't planned on it originally but now that the holidays are almost here, it just seems wrong not to. I have an idea for Dave but not sure for Chandra. Hmmm, she's a toughie although she'd like just about anything. Oooooh! I just had a great idea - she's a tea drinker and there's a
fabulous tea store
just a few blocks from my house. Done. That I can afford and it'll be about the same amount that I'm going to spend on the brother and my mother in law. Whew. Thanks for helping me out by reading this!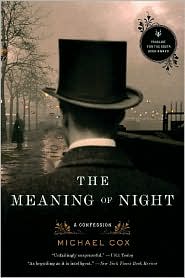 The only other thing at the moment is reading. I've been stressing about what I want to read next for the
Winter Challenge
. I could pick up War and Peace again but it's making me feel ... meh. It's certainly no Crime and Punishment. The list I wrote below? Again...meh. I love to plan but when it comes to books, I really have to be in the mood for it. I've requested a book on the
history of beans
from one of the university libraries but it'll take a few days to get here. I had then considered hitting the used book store in hopes of picking up some cheap, cheesy fiction but alas, that's money I could be using for the gifts above so I decided to pass. I could also raid my brother's house as they have two full walls full of built in shelves overflowing with books of all kinds. While I was considering this, I glanced at my TV stand where I stack my books. I noticed the copy of
The Meaning of Night
which I had bought earlier in the summer. What the hell, I thought. I'll give it a try.
Mister Anchovy
had mentioned that he'd probably read it for the reading challenge as well so at least I'd have someone to discuss it with (or complain to if I didn't like it). Set in Victorian England, it's a story of revenge and murder that took it's author 30 years to write. And much to my surprise, I was hooked after reading the first line: "After killing the red-haired man, I took myself off to Quinn's for an oyster supper." Awesome. I'll keep you updated.