What a load of garbage.
Warren Fahy's Fragment
has to be one the absolute worst novels I have ever read. I'm actually stunned that this got published and even more stunned that it is going to be turned into a movie. Why is it garbage, you ask? Here's my summary...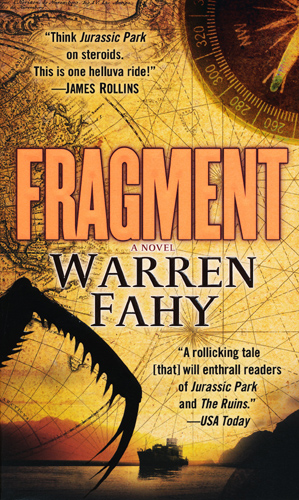 A reality series, SeaLife, is shooting aboard a research vessel full of scientists, travelling around the world on a year long adventure. They encounter a distress signal coming from a previously unexplored island and head off to investigate. Within moments of stepping ashore, all but two of the party are killed - on live TV. Turns out, the island's ecosystem has evolved independently of the rest of the planet for hundreds of thousands of years, resulting in blood sucking plants, giant spider-like creatures, and ants that'll eat a human body in a matter of minutes. The US government surrounds the island with warships and sends in another group of scientists (including the two survivors) to investigate an island and they soon realize that every species is a perfect killing machine. The President decides to nuke the entire island into oblivion to prevent any from escaping and wreaking havoc on the rest of the planet. Only problem? The science team has discovered intelligent life and will do anything to save them - provided they can make it off the island alive.
Doesn't sound too bad, right? I thought so too until I started reading it. Fahy's writing is a Jekyl and Hyde. At times, his style is overly simplistic and filled with too much detail. Is it really that important that you mentioned one character's Indiglo watch 16 million times? We get it! His watchface glows. And then suddenly he switches to a six page debate between two rival scientists having an overly scientific debate on opposite theories of evolution. Back and forth, back and forth. It probably wouldn't be nearly as bad if he hadn't written so technically. The scientific portions of his book are too "science-y" for your average reader. Its great that Fahy has done his homework but if I wanted to take a course in marine biology, botany, or geology, I'd contact a university.
There were numerous times throughout the book where I was oh-so-tempted to throw this book in trash but I struggled on. There were the numerous times that one character or another suggested all the species on the planet developed from shrimp ancestors and the descriptions of some of them made me think of the prawn-like aliens from
District 9
. Or when the scientists ended up inside the fuselage of an old WWII bomber used as shelter by the intelligent creatures they encounter and they sit down on what appears to be the raft from Amelia Earhart's missing plane. Or the biggie - when the scientists encounter the human-like creatures and they start talking like an updated, non-Jamaican version of Jar-Jar Binks. Oh yes, its true. And the
artwork for the creatures
on the author's website re-enforced that vision.
This book was horrible. Nothing new here; we've all read better novels or watched smarter films with a similar storyline. The ending is predictable and cheesy. The one small glimmer of light was a quick Aliens reference early on. In fact, I was hoping and praying that, when the President gave the order to vaporize the island, he would have said "I say we nuke the site from orbit. Its the only way to be sure". Alas, he did not. I have no idea how or why I read the entire thing but I did. All 501 pages. Including illustrations. Bad, cartoonish illustrations.
Its pretty bad when books like The Ruins (which I actually enjoyed) are better than this mess. James Rollins called Fragment "Jurassic Park on steroids". I may not find his books believable and often ask myself after reading one, Why Do I Read This Crap, but his books are at least fairly well written. Skip this book. Don't read it. Don't watch the film version if, god forbid, it ever gets released. If you see a copy of this book on the shelf, burn it.
Warren Fahy
- you owe me $9.99 CDN plus GST and 4 days of my life I'll never get back.