As some of you know, over a year or so ago, I finally paid off my dreaded student loans
*thunderous applause*.
It represented the last of my debts and I finally felt as though I'd thrown off the yoke of repayment which had hung around my neck since I graduated back in 1999. At times it had felt as though I would never shake that monthly payment. However, I stuck with it, began making extra payments when I could, sometimes of only a dollar or two, and watched gleefully as my balance gradually diminished. Freedom! Ok, so I still have my credit card but I don't put that into the same category as loans and other large financial obligations.
My whole life I have longed to travel. I attribute part of this to growing up in military family. When you move across the country every 4-5 years, you get used to seeing new things and visiting new places. While we didn't travel far and wide for vacations during my childhood, I was always curious about distant lands and different cultures. Unlike a couple of my high school friends, I didn't do the classic Senior Trip to Europe. I didn't take my first "real" vacation until after I'd graduated when my best buddy and I flew to California to see Disneyland. After that, it was onto university where spare money was almost nonexistent and the most exotic locale I visited was a friend's couch to watch a foreign film. A few years after getting my degree, I put myself deeper into debt by financing my next vacation (18 years after my first) and took a solo trip to the UK.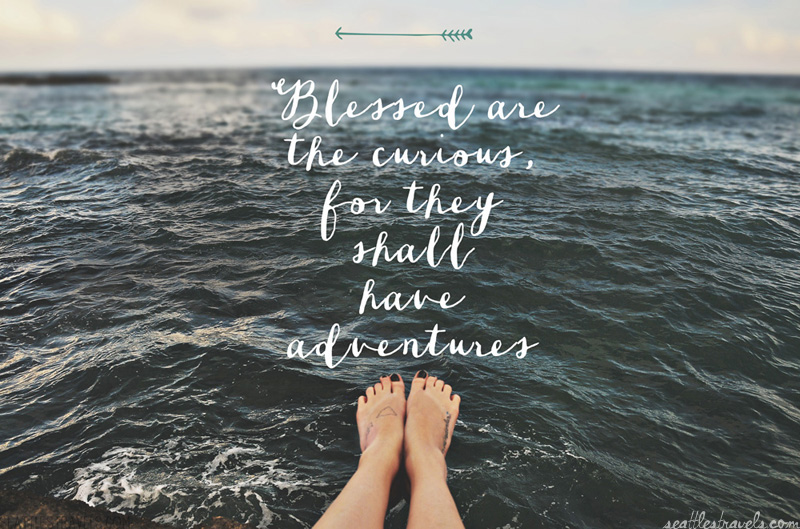 I was always jealous of friends and coworkers who traveled every year – a week during the winter in Mexico or the Caribbean, two weeks in the summer for a cruise or off to Europe. It's not their fault I haven't had the opportunities to travel but I was still a bit bitter hearing about their fancy fruit drinks, exotic excursions, and seeing their sun-drenched snapshots. If I continued to only take a break every 18 years, I'd be lucky if I managed two more trips before I kick the proverbial bucket. Inspired by my well-travelled friends, and my mother who seems to be able to manage at least one short trip every year, I'm changing my outlook on vacations. No longer will it be me sitting on my couch in my sloppy jam-jams watching day time television (although, yes occasionally I will still do that). I am actively looking at filling up my passport!
It's now no secret that I'm heading off to Hawaii with Mommikins in the New Year. However, I'm already looking ahead to my next two vacations! Yeah, I'm going a little hog-wild crazy here. My thoughts are that I "might" be able to afford a short (week) vacation in January with Mom, and then take a week vacation by myself (or with a friend) in the fall. I'm not one of those people who want to vacation in summer. Its tooooo hot for me to want to vacation here in Canada and many of the places I want to go have similar or hotter climates. No thank you. Plus, everyone else takes their vacations in July and August so I'm looking at September. Heck, depending on the location, I'd even look at October (plus it could be slightly cheaper!).
It would be nice to be one of those people who have a passport filled with stamps from around the world. To have had unique adventures, learning about history where it happened, and experiencing the way the rest of the world lives their lives. I don't need to live for a month with the Bushmen of the Kalahari or something equally exotic. What I do want is memories, images and stories of my own from the places I've always wanted to visit – and the ones I didn't realize I wanted to visit until I ended up there.
I'm already thinking of where I'd like to go come next fall – and yes, I'm aware it's a year away. This gal's an advance planner, remember? Nothing decided yet; I don't even know what continent I might end up on. I do know that it will be for about a week (give or take a day or two). Possibly with a friend who's fairly well-travelled or maybe on my own, everything is kind of up in the air. I'm taking suggestions if you would like to offer one. Nowhere hot, please. I'm not looking for a "resort" type vacation this time around. Lots of history, interesting things to see, fun things to do, etc. And I'm not averse to doing a tour package depending on the location.
As I leave you, I'd like to leave you with a question – tell me about your favourite vacation spot, your first "big" vacation, or somewhere you've always wanted to go.